<![if !vml]>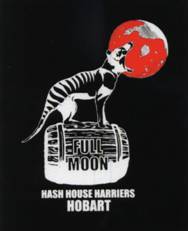 <![endif]>Hobart Full Moon Hash House Harrierstop
Contents

Run Info and Receding Hare Line

Hot Hash Links

Office Bearers

 Just how many times have I mooned? (Sept2022)
            (Needs Acrobat reader)
Link to     Picasa Photo Album

Run Info and Receding Hare Line
Every Full moon
Nearest Sunday @ 2pm

ALL Hobart Full Moon H3 runs are now $5. BYO your everything - booze and food.  (March 2016)


Run

Date

Where – at   Sundays @  2pm
<![if !supportLineBreakNewLine]>
<![endif]>

349

1 Oct

Richmond Tennis Club & AGPU,
2 Victoria Place, Richmond
Map Link:  https://goo.gl/maps/hhcDw1s4a7id8kb28

Cummittee

350

29 Oct

TBA

TBA
Previous Run History history.htm
The pack usually consists of approx. 25 and has been as large as 50.
It is a mixed hash with an average run length of 55 minutes.
Normally ample areas for hashing for those amblers.
All runs followed by a circle for misdemeanour and milestone skols.
Joke telling is actively encouraged.
Run Markings are: FT - False Trail; Δ - Check ;
MΔC - Master Check or Group Check(Regroup)
Full Moons for the Year 2021 are:
A Full list if Moon phases can be found at: https://www.timeanddate.com/moon/phases/australia/hobart
Remember to add 10 hours to the time or 11 in Daylight Savings
Back to top

H5 - Hobart Hash House Harriers & Harriettes http:/hobarthash.tripod.com/h5/
Aussie Hash Page http://www.hhh.asn.au/
LAUNCESTON HASH pages:
           LH4        http://www.lh4.com.au/     (Mixed Hash, Thursday Nights 7 pm)
           LH3        http://www.launcestonhashhouseharriers.blogspot.com.au/     (Male only, visiting females welcome, Tuesday Nights 6.30pm)
Burnie Hash House Harriers http://www.burniehhh.org/
LoonRhasH House Harriers (Up North)  http://www.lunarhash.blogspot.com
Back to top

Electronic mail address: (Phones - see below)
Eve: abridley@gnail.com    (Phone:  0417 552 723)
Back to top

Grand Master:

Spoof

0419 291 382

Religious Advisor/Lip

Wee Bev

0409 431 402

On Sec / Flash/Trash

Eve

0417 552 723

Hash Cash

Bad News &
W3

0401 771 383

Hash Flash

Coupla Weeks

0417 136 874
Back to top

Inaugural Run: 9 September 1995
New Sydney Hotel. Run set by:
Ross Atlas Thomas, Peter Hi Ho Davey.
A pack of 68 runners attended this event.
Most Runs: as at 11 Sept 2022 AGPU
307 - Adam Eve Bridley (299 – 16Jan22)
245 - Lesley Satin Phillips
225 – Wayne Argue Quarrell
215 – Paul Herr Flick Curry (208 – 16 Jan 22)
212 – Trevor Spoof Wailes  (209 runs 17 April 2022)
201 – Wayne Crusher Hall
194– John Honkers Ellsmore
191 – Paul PeeWee Green
175 – Rita Souvenir Mendelson
161– Roger Portholes Portlock (Cloud9)
157 – Graeme Grizzly Faulks (130 Runs – March 2022)
150 -  Michael  Snack Bar   OLeary
148 – Bev WeeBev Sallie  (143 runs 17 April 2022)
144  - Coralene Trust Me Hobden
143 – Basil Captain Condom Fraser
134 - Adele  Coupla Weeks  Winslow  (130 Runs 17 April 2022)

(15 Sept 2019) AGPU
112 – Bonnie Swallow Rimmer
110 – Jamie Wrinkle Creese
107 - Alan Zero Bennett
102 - Andrew Pole Dancer  Harper
99 -  Rosmyn Lone Arranger  Faulks
85 – Caroline A Bit of This Waterhouse
83 – Christine Growler Andrews
81 – Sally Psycho Sal Griggs
80 - Lewis Ted Bullpit Mitchelmore
78 -  Patsy Prickit  Sharp
78 – Ken Banger Dann
70 – Top Deck
69 - Mortitia
69 – Christine Chris Miss Andrews
69 – Hands On
68 – Karen Back Alley Street
67 - Gloria   Pullit   Elphinstone
63 – Joanna Yes Please Crisp
62 – Dodi
59 – Mary   Bloody Mary   Alexander
56 – Reg Wet&Wobbly Conley  (not listed)
55 – Kylie Thumper White  (not listed)
54 – Jess Hamburglar McDonald
52 – Leanne Bundy Laurence  (not listed)
52 - Vegie
50 – Sian RU Cumming  (not listed)
<![if !supportLineBreakNewLine]>
<![endif]>
charities for the past RDRs:
19/09/1997 (45 Tasma St North Hobart)
04/11/1998 (Ocean Child Hotel)
99

14/09/2000 5th Red Dress Run – Commodore (Brisbane Hotel)
03/09/2001 (Hobart Regatta Pavillion)
21/09/2002 (Prince of Wales Bay)


03/08/2005 -


27/02/2010 Volunteer Ambulance Association Tasmania
24/02/2011 Save the Tasmanian Devil Appeal
11/02/2012 Red Shield Appeal
23/03/2013 Albie House
22/02/2014 Bethlehem House
7/02/2015 Autism Tasmania
20/02/2016 Caroline House
11/02/2017 Mathew Millhouse Salute/White Cloud
3/02/2018 Motor Neurone Disease Tasmania
23/02/2019 Cancer Council Tasmania
8/02/2020 Cancer Council Tasmania
27/02/2021 Loui's Van
2022 – Covid, not held
6/01/2023 – Hobart Women's Shelter (The Red Shed)
<![if !supportLineBreakNewLine]>
<![endif]>
High Noons – Full Moon:

26/02/2007 – Campbell Town


30/01/2010 – Campbell Town – Wear the Fox Hat theme


26/01/2013 – St Mary's Theme: Northern Royalists vs Southern Republicans
18/01/2014 –Mole Creek – Theme: Mole and All his friemds from Wind in the Willows
10/01/2015 – Weldborough Pub, Theme:
30/01/2016 – Fonthill, Theme: Hill Billies
14/01/2017 – Railway Hotel, Queenstown, Theme: The Empire Strikes Bak
06/01/2018 – Longford, Theme: Car Racing
19/01/2019 – Lake Leake, Theme:
11/01/2020 – Launceston Field Naturalist Club, Mytle Park. Theme:
27/12/2020 – Fawlty Towers (Rostrevor Estalte) Fingall. Theme:
2022 – Not Held, Covid
3/03/2023 – Gumleaves, Little Swanport. Theme: Pirates

Last Revised: Tuesday, 17 September 2022
Webmaster contact: abridley@gmail.com  (Phone  0417 552 723)