top
Hobart Hash Harem

<![if !vml]>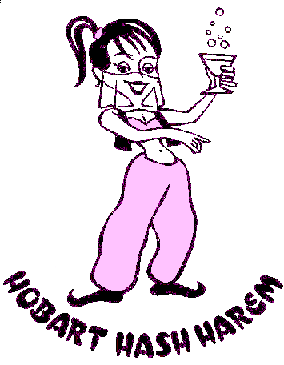 <![endif]>Harem: A Women's Hash
Contents

Future Routes

Hot Hash Link List

Contact Information

Upcoming Events

Historical Information

Harem FaceBook Page: 

$15.00 per run
($7 Run only)

Every Wednesday at

Don't forget:
COST PER RUN:  $15 with food / $7 run only

RESTAURANT and CAFÉ LIMIT -  $12 (if meals are more expensive harem sisters have to pay the difference on top of the $15 run fee.  
(See explanation below)

BYO drinks except when at a licensed venue

BYO torch

BYO warm clothing
Run

Date

Where

By

1131

23 Sept

9 Binya St, Glenorchy

Bubbles

1132

30 Sept

11 Jasmin Crt, Howrah

Pullit

1133

7 Oct

44 Waterworks Rd, Dynnyrne

Silent P

1134

14 Oct

TBA

X D

1135

21 Oct

TBA

1136

28 Oct

John Dogger Park
Halloween
The pack usually consists of between around 10 to 15 runners and walkers (often more walkers).
It is a women-only hash with milestone runs and special events open to all hashers.  
All runs followed by a circle to recognise achievements and misdemeanours.
Joke telling is actively encouraged.
Very Important Food and Booze Info

Cost per run

$15 - with food or  $7 run only

Home Run Limit

$40 - if the harem hostess wants to spend more, then she absorbs the costs – Small meals not banquets please!

Piss Stops

$ club pays for Piss Stops on route, not if at home.

Restaurant and café limit

$12 -If meals are more expensive harem sisters pay the difference on top of the $15 run fee

BYO

Drinks except when at a licensed venue

First timers

First run is free, pay on the second run and forever more
Run Markings are: FT - False Trail; Ä - Check ; Run arrows -


Hobart Full Moon Hash House Harriers http://hobarthash.tripod.com/fm

Chardonnay Hash House Harriers http://dreamwater.org/run/

Aussie Hash Directory http://www.hhh.asn.au/
LAUNCESTON HASH pages:
           LH4        http://www.lh4.com.au/     (Mixed Hash, Thursday Nights 7 pm)
           LH3        http://www.launcestonhashhouseharriers.blogspot.com.au/     (Male only, visiting females welcome, Tuesday Nights 6.30pm)

Burnie Hash House Harriers http://www.burniehhh.org/

Contact Information   2019 – 2020
Hash Name

A. K. A.

Phone

Grand Mattress
Horn/Grog:

GnT

Mabel Byrom

0448 451 416

Grand Lilo

The Weekly Hare, 
An opportunity for all to experience this role and gain confidence

Hon Sex/ Scribe

Tush Push

Jeanette Lewis

0409 441 261

Hash Cash

Madam Lash

0438 193 906

Route Mistress

Loose Lips

Jeanette Lewis

0437 980 227

Hash Flash / Shitorian

Chitty

Ann McKerrow

0400 616 100

Haberdasher

Silent P

Annette Psereckis

0419 543 287
Electronic mail address:
Silent P:   mailto:annette.psereckis@gmail.com
<![if !supportLineBreakNewLine]>
<![endif]>

Run 1100: To Be Advised

Founded: 3rd March, 1999 by:
Kate Entrance Ellsmore, Leanne Bundy Lawrence, Rita Souvenir Mendelson, Bronwyn Buckét McConnon,
As At 15 March 2019
<![if !supportLineBreakNewLine]>
<![endif]>
Over700 Runs:
Loose Lips
Over 600 Runs:
Chitty Chitty Bang Bang,Slowcum, Pullit
Over 500 Runs:
Souvenir, G&T, Hook & Eye
Over 400 Runs:
Dirty Patti,, Money Box, Grin and Bare It, Silent P, Tush Push
Over 300 Runs:
Creamed Up, Frequent Flasher
Over 200 Runs:
Trust Me, Thumper, Quickie, RU, French Letter, Nil Orally, Puff 'n Stuff,
Sticky Buns, Shooter, Bubbles, Entrance,
Over 100 Runs:
Bundy, Legs, Swallow, Mrs Ansell, Kawabox, Mt Carmel, Fringe Benefit ,
Bloody Mary, Funken Wagnells, Just Kidding, Tight Spot, Grass Roots,
Naughty but Nice

Last Revised: Monday, 15 March 2019
Web queries email to Eve