top
Hobart Hash Harem

<![if !vml]>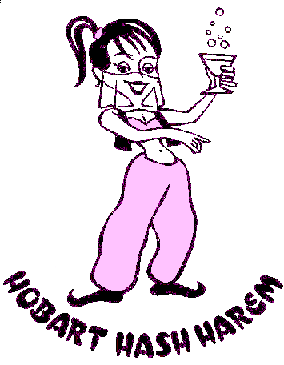 <![endif]>Harem: A Women's Hash
Contents

Future Routes

Hot Hash Link List

Contact Information

Upcoming Events

Historical Information

Harem FaceBook Page: 

$15.00 per run
($7 Run only)

Every Wednesday at

Don't forget:
COST PER RUN:  $15 with food / $7 run only

RESTAURANT and CAFÉ LIMIT -  $12 (if meals are more expensive harem sisters have to pay the difference on top of the $15 run fee.  
(See explanation below)

BYO drinks except when at a licensed venue

BYO torch

BYO warm clothing
Run

Date

Where

By

1064

5 June

3/13 Emmaline Crt, Rokeby

Madam Lash

1065

12 June

Queens Birthday Run – TBA
Dress Royale

Pullit

1066

19 June

31 Tilanbi St Howrah

Tush Push
The pack usually consists of between around 10 to 15 runners and walkers (often more walkers).
It is a women-only hash with milestone runs and special events open to all hashers.  
All runs followed by a circle to recognise achievements and misdemeanours.
Joke telling is actively encouraged.
Very Important Food and Booze Info

Cost per run

$15 - with food or  $7 run only

Home Run Limit

$40 - if the harem hostess wants to spend more, then she absorbs the costs – Small meals not banquets please!

Piss Stops

$ club pays for Piss Stops on route, not if at home.

Restaurant and café limit

$12 -If meals are more expensive harem sisters pay the difference on top of the $15 run fee

BYO

Drinks except when at a licensed venue

First timers

First run is free, pay on the second run and forever more
Run Markings are: FT - False Trail; Ä - Check ; Run arrows -


Hobart Full Moon Hash House Harriers http://hobarthash.tripod.com/fm

Chardonnay Hash House Harriers http://dreamwater.org/run/

Aussie Hash Directory http://www.hhh.asn.au/
LAUNCESTON HASH pages:
           LH4        http://www.lh4.com.au/     (Mixed Hash, Thursday Nights 7 pm)
           LH3        http://www.launcestonhashhouseharriers.blogspot.com.au/     (Male only, visiting females welcome, Tuesday Nights 6.30pm)

Burnie Hash House Harriers http://www.burniehhh.org/

Contact Information   2019 – 2020
Hash Name

A. K. A.

Phone

Grand Mattress
Horn/Grog:

GnT

Mabel Byrom

0448 451 416

Grand Lilo

The Weekly Hare, 
An opportunity for all to experience this role and gain confidence

Hon Sex/ Scribe

Tush Push

Jeanette Lewis

0409 441 261

Hash Cash

Madam Lash

0438 193 906

Route Mistress

Loose Lips

Jeanette Lewis

0437 980 227

Hash Flash / Shitorian

Chitty

Ann McKerrow

0400 616 100

Haberdasher

Silent P

Annette Psereckis

0419 543 287
Electronic mail address:
Silent P:    Psereckis_a@westnet.com.au
Money Box: janet@errandsrun.com.au
Sticky Buns: maggiebaker84@hotmail.com
<![if !supportLineBreakNewLine]>
<![endif]>

Run 1100: To Be Advised

Founded: 3rd March, 1999 by:
Kate Entrance Ellsmore, Leanne Bundy Lawrence, Rita Souvenir Mendelson, Bronwyn Buckét McConnon,
As At 15 March 2019
<![if !supportLineBreakNewLine]>
<![endif]>
Over700 Runs:
Loose Lips
Over 600 Runs:
Chitty Chitty Bang Bang,Slowcum, Pullit
Over 500 Runs:
Souvenir, G&T, Hook & Eye
Over 400 Runs:
Dirty Patti,, Money Box, Grin and Bare It, Silent P, Tush Push
Over 300 Runs:
Creamed Up, Frequent Flasher
Over 200 Runs:
Trust Me, Thumper, Quickie, RU, French Letter, Nil Orally, Puff 'n Stuff,
Sticky Buns, Shooter, Bubbles, Entrance,
Over 100 Runs:
Bundy, Legs, Swallow, Mrs Ansell, Kawabox, Mt Carmel, Fringe Benefit ,
Bloody Mary, Funken Wagnells, Just Kidding, Tight Spot, Grass Roots,
Naughty but Nice

Last Revised: Monday, 15 March 2019
Web queries email to Eve